Putting your money into an Atlantic Bank Savings Account helps you plan securely for a brighter future. Whether you are saving for retirement, a new car, your family's education or even expanding your family, let us help you select the right Savings Account that meets your financial needs.
BUSINESS SAVINGS|CERTIFICATES OF DEPOSITS
Business Savings Account – Save for Future Investments!
Let your money work for you - giving you an edge as your business grows. This savings account is the perfect complement to your business, allowing you to earn interest on your surplus cash.
Recommended for:

Saving for future investments
With surplus cash that they'd like to earn interest on
Opening of account:

Start your Business Savings Plan with a minimum deposit of $100.00.
Product Features:

No hidden fees - no monthly service charge on active accounts or a minimum balance fee
Free Business Online
Free Visa Debit Card
2.50% interest per annum on balances of $5,000 and over, which accrues daily and pays quarterly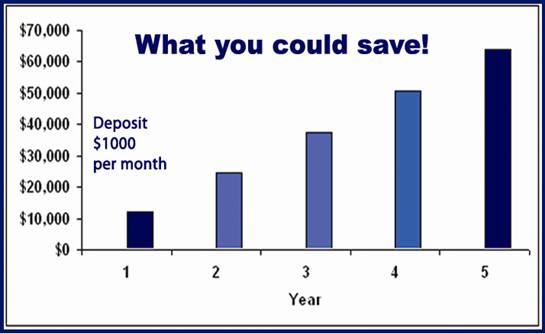 For example: If you open an account with $100.00 and save $1,000.00 per month, for 5 years you would have saved $64,081.85, of which $60,100.00 would be your contribution and $3,981.85 would be interest earned.
Interest Rate:
| | | |
| --- | --- | --- |
| Balance | ANIR | AEIR |
| $5,000.00 and over | 2.50% | 2.524% |
ANIR- Annual Nominal Interest Rate (the stated interest rate, excluding any compounding of interest)

AEIR- Annual Effective Interest Rate (the actual annual interest rate, including the compounding of interest)
Requirement for Service:

Minimum initial deposit of $100.00
Business & Owner Information
Certificates of Deposits- Long-term savings with added growth potential!
Fixed or Term Deposits - Invest your savings for exceptionally competitive rates and flexible maturity dates. Choose the time period that best fits your financial goals.
Product Features

Time periods include: 3, 6 & 12 months and different interest rates per period apply.
Certificates of Deposits for longer periods are strongly recommended.
Minimum time period/term is 90 days.
Minimum deposit of $50,000.00.
Binding commitments that place restrictions on withdrawals.
Option to renew on expiration date.
Flexible means of interest payment. Interest paid as agreed upon and deposited to assigned account or payable   by cheque (note that we may also do Principal Plus Interest).
Requirements for Services:

Business & Owner Information